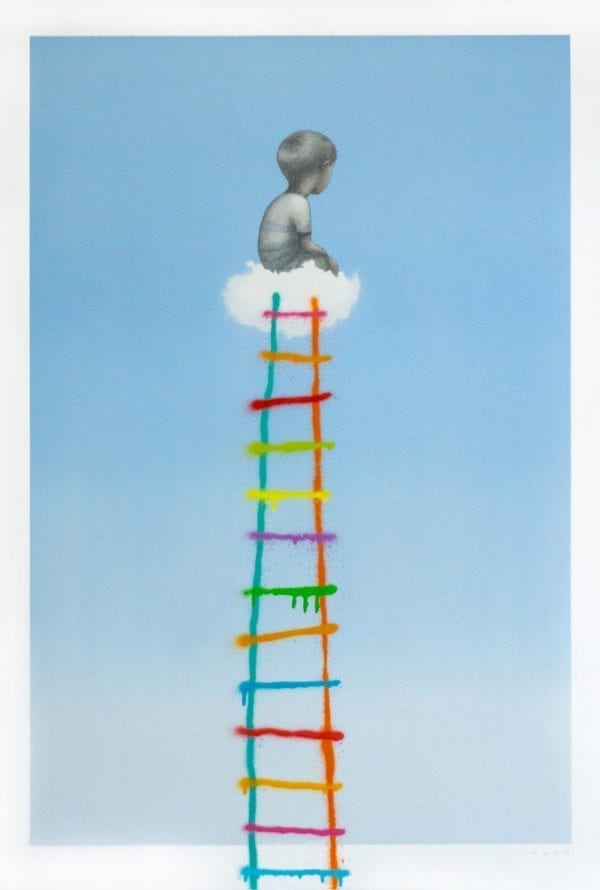 L'échelle The Ladder
SOLD OUT
A small boy is perched on top his cloud. The ladder that he drew in the sky tells us about his ascent. An invitation to tap into one's own imagination to rise above and gain a new outlook.
More than a declination, with his new lithograph "The Ladder" finished by hand, Seth has reinterpreted his work on walls and on canvas on a different format.
For this edition of one hundred and fifty, each print is unique. Each ladder is different from the other, painted by the artist using spray cans. Seth combines the precision of printing and the organic yet uncertain gesture of painting with the rawness of the tool. Patience and meticulousness thus meets vibration and spontaneity. The concept of multiple becomes in this case unique.
Seth is entrusting the realisation of the works to the legendary printing house Idem. Founded in 1881, this Parisian temple of art printing is highly acclaimed by the some of the greatest artists on the international scene. Works created here are presented in museum collections as well as in private collections around the world.
This lithograph is composed of five colours and is printed with a Marinoni press on hand-cut white Velin BFK Rives 270g paper. It is enhanced and hand-painted using eight different spray can colours. It measures 103×70.5cm.